**This document will continually be updated as we receive more information from JETs and other sources**
Current as of: 12/21/20
If you are here, it's likely that you're interested in learning about the BLM Movement, systemic racism, how to bring up recent events with people in Japan and back home, or how to construct lessons about racism and anti-blackness. If that's the case, do we have a guide for you! To be clear, while we have curated resources that we personally have found useful, there's a lot we could've missed. You can use the table of contents to jump directly to any portion you need, or start from the beginning!
Table of Contents
 1. Educational Resources (English)
With recent events in the world and the increasing visibility of the BLM movement, many people have found themselves for the first time considering how they fit into the frameworks of inequality and privilege and how to actively be anti-racist.
While there is a lot of information available online, sifting through it can be both confusing and overwhelming. You may wonder how to start. To that end, we have compiled a list of some English educational resources which you can use for yourself, to show to English speaking friends, coworkers or students, and to plan classes on BLM.
The resources we chose are some that have been helpful for us, and we hope that they will be helpful for you as well.
Black Lives Matter At School is a website contains a list of teaching materials, including lesson plans and classroom resources, which may be useful for those who wish to plan classes on BLM, or even just educate others. While most of the resources are free, some of the recommended books are not.

Here are two documents that have been helpful for us in deepening our own understanding of anti-racism. First, a document compiling anti-racism resources, which is a list of articles, videos, podcasts, books, films, TV series, and organisations for your own research. If you'd like more definitions and article-style writing, try Anti-racism for Beginners, which has that same style of curated list but with more context for the resources given.
For some facts and statistics about Black Lives Matter, we've found a guide compiling data focusing on policing, incarceration, and protests related to racism. This guide focuses specifically on the intersection of policing and race, and does not discuss other potential avenues of systemic racism. For a more easily digestible and broad view of systemic racism, check out this article (with charts and graphics!) from 2016 by my personal favorite ice cream brand, Ben & Jerry's. Note: Both of these sources are very US-centric.
Finally, the Letter for Black Lives can be used from an educational perspective. Although it is addressed to family members, the contents can still be used for starting a discussion with any English speaker. Extracts from the letter could also be used in more advanced English classes.
ALT-specific resources
See below for some JET-specific classroom resources.
This was made by Meiky F., an Amakusa ALT, for JHS 3rd graders based on the text New Horizons. There are four texts that could be supplemented by videos and other resources.
If you have any classroom resources on this topic, please feel free to reach out to us at kumajet@ajet.net.
2. Educational Resources (Japanese)
While we all know that this is a global movement, sometimes it can seem like it hasn't quite reached your inaka town. Life continues on as normal and it can be difficult – or even impossible – to broach the subject with friends and colleagues, even if they speak English. These are hard topics to confront people with and even understand in English, so we've found some good Japanese resources to help unpack these issues.
First, if you would just like a basic bilingual primer on the Black Lives Matter movement and why the current movement is happening, you can find it here. This is not a comprehensive document, but it is written by a native Japanese speaker and includes quotes, tweets, and definitions that could be useful in educating Japanese speakers – or even your students!
For a history of the Black Lives Matter movement and to answer deeper questions about anti-blackness in the US and globally, we've found this Vogue Girl Japan article. It has a lot of links to other accessible media, like documentaries and Youtube videos.
A Japanese translation of the blacklivesmatters carrd has been created as well, which is useful for links to donate, petitions to sign, and other actions. It also has links to related literature and movements, which can help further the conversation. The translated Japanese version of the Letter for Black Lives could be a good way to give Japanese coworkers and friends an empathetic view of how many in the US and internationally feel about the current issues.
Finally, two Japanese instagram accounts, @hanasou.jp and @blossomtheproject, have easy-to-understand and frequently updated posts about current events. @hanasou.jp especially focuses exclusively on making visually appealing and easy-to-read posts about events of the BLM movement.
3. Japanese Vocabulary
The vocabulary below has been compiled with respect to the main talking points of the Black Lives Matter movement, as well as some more potential areas of discussion. It's not likely that all of these points will be addressed in any one conversation, and providing this vocabulary is intended as a starting point, not an ending point to conversation.
Potential uses of these words include asking friends or colleagues in Japan what their first impressions of these words are, bringing them up in discussion, or adding them to lesson plans. If any words aren't on here but should be, let us know!
Vocabulary

Translation

Pronunciation (Hiragana/Romaji)

Black Lives Matter

黒人の命を尊重しろ

こくじんのいのちをそんちょうしろ

 

Kokujin no inochi wo sonchou shiro

Racism

人種差別 

じんしゅさべつ

 

Jinshu sabetsu

Defund the Police

警察の予算打ち切り 

けいさつのよさんうちきり

 

Keisatsu no yosan uchikiri

Worldwide movement

世界的な動き

せかいてきなうごき

 

Sekai teki na ugoki

Antiblackness

反黒人的動き 

はんこくじんてきうごき

 

Han kokujin teki ugoki

Solidarity

連帯感 

れんたいかん

 

Rentaikan

Equity vs. Equality

公平さ vs 平等さ 

こうへいさ vs びょうどうさ

 

Kouheisa vs. byoudousa

Systemic Racial Disparity

制度的人種差別 

せいどてきじんしゅさべつ

 

Seidou teki jinshu sabetsu

Implicit vs. Explicit (Racism)

暗黙的 vs 明確的

あんもくてき vs めいかくてき

 

Anmoku teki vs. meikaku teki

Restorative Justice

修復的司法 

しゅうふくてきしほう

 

Shuufuku teki shihou

(White) Privilege

白人の特権 

(はくじんの)とっけん

 

(Hakujin no) tokken

White Supremacy

白人至上主義 

はくじんしじょうしゅぎ

 

Hakujin shijoushugi

Ally

味方 

みかた

 

Mikata

Mutual Aid

互助

ごじょ

 

Gojo

Intersectionality

交差性

交差性

 

Kousasei
trans. credits: Estelle Abrial, Ethan Barkalow
4. Hard conversations
Being on the JET Program means that we're apart from familiar people and things. It's difficult to learn that you share different views from a friend or a loved one, but it can be even more difficult when that friend or family is far away. How can you be sure you are understood through a phone call or a computer screen?
If you don't know how to start the conversation, consider reading this letter (translations and localizations available) to provide a seed of thought on how best to proceed. This may be especially useful when talking with people for whom English isn't their first language. Remember, these conversations are not about winning or losing, but rather opening a discussion with people that you care about.
If you would like to push back against certain attitudes or take a stand, take a look at this InStyle article written by a Japanese-American man about his personal experiences having conversations with his white father. It includes tips on hard conversations as well as specific talking points to engage with.
Find more resources here (for Asian-Americans) and here (from a South Asian lens, but a generally broad and useful resource). For our JETs with children who aren't sure where to start, here's a handy guide.
Some final things to remember:
You can always walk away and take space for yourself.
These conversations are not single moments, but

processes

 that will take as long as they need.
Actually listen and engage with the other person. You cannot have any learning moments, on either side, without that real sense of rapport.
5. Act.
You've educated yourself, you've educated the people around you, but you still want to do more. This article is a simple guide published in a Tokyo magazine on how you can be an ally to the BLM movement right now, with donation links, educational resources, and advice on how to spread awareness.
For a more comprehensive list of places to donate, we've found this document created by Fordham University students. It has up-to-date lists of various funds and organizations that are taking donations. For ways to donate without the funds to do so, try this streaming playlist (turn off adblock, do not skip ads, keep resolution above 480p, and keep the volume above 50%) or this game available on Apple.
There is no wrong way to engage in this movement. Some people spread information, while others silently donate. People are putting in work to educate and dismantle racism and antiblackness in themselves and every effort that people make to actively change themselves, the system, or the people around them is better than doing nothing.
Even though we're in Japan, there are local actions in the area. We cannot advise as to whether or not JETs should take part in them, but our number one priority is for us all to be safe and to make informed decisions.
As JETs, our contracts do explicitly have some wording regarding protesting and political activity, as below in the Kumamoto Prefectural Terms and Conditions, specifically Article 7, nos. 1-3, and Article 25.
Article 7: Grounds for Dismissal
 1. If the JET violates Japanese Constitutional Law, other Japanese laws and ordinances, or the terms and conditions established herein.
2. If the JET is imprisoned or receives a heavier sentence.
3. If the JET behaves in a manner significantly inappropriate to the duties of a JET.
Article 25: Restrictions against Religious and Political Activities
The JET shall not be involved in religious or political activities which would affect the JET's duties.
If you choose to go to local actions, be sure to check your own terms and conditions as they differ across the prefecture. For example, in the city these same restrictions are worded slightly differently and are different article numbers.
Without question, do NOT take part in local actions if you are displaying signs of COVID-19 or any kind of illness. Please keep in mind this article published in the Japan Times about what it's like to protest in Japan, and the do's and don't's of actions.
In general, please remember to wear masks, properly socially distance, and bring things like water, hand sanitizer, and garbage bags.
List of demonstrations in Japan
6. Supporting yourself // What about self care?
No one can be on all the time. Being so far from your home country can feel really alienating, and feeling powerless and stressed with no outlet is one of the first steps to burnout. Even if you feel physically safer or happier in Japan, this can still happen and does not devalue your Japanese experience!
Some possible signs of burnout are documented in this Psychology Today article, and include: chronic fatigue/insomnia, irritability, forgetfulness, loss of appetite, cynicism, lack of productivity, and many others. You could feel one or two of these or many. Burnout and chronic stress are not things that just go away, they're things that have to be managed and adjusted for.
For JET-specific resources, there are many good options. First, if you'd like a counselor or counseling service, there are three possible avenues of counseling – web-mail, skype-based, and telephone-based. See details for each below.
Web Mail Counselling – Can start as many threads as possible
Login Password: clairjet2020
English: https://www.kokoro-soudan.net/en/
Japanese: https://www.kokoro-soudan.net/
Skype Counselling – Seven sessions possible
Login password: clairjet2020
English: https://www.fismec.co.jp/hiroba/en/secure
Japanese: https://www.fismec.co.jp/hiroba/secure
Counselling via Telephone – One call per day
Schedule for the fiscal year of April 2020 to March 2021 (once a month)
15 April, 20 May, 17 June, 15 July, 19 August, 16 September, 21 October, 18 November, 16 December, 20 January, 17 February, 17 March

Phone number: 0120-810-803
AJET Peer Support Group is another great resource, with volunteers on the line 365 nights a year. Though they are not a counseling service, if you need a friendly and anonymous ear, they can definitely help! Contact them at 050-5534-5566 or 'AJETPSG' on Skype, from 8pm-7am.
Tokyo Lifeline, though not focused on JETs, is a similar type of resource as PSG, and are available from 9am-11pm daily. You can contact them at 03-5774-0992.
Mindfulness is a general technique that could be useful in present times, and we've used this guide to work on our own mindfulness. Here's why it's important!
Give yourself some time away from social media and the news. It will still be there when you get back. Here's 50 ways to take that break! Be kind to yourself.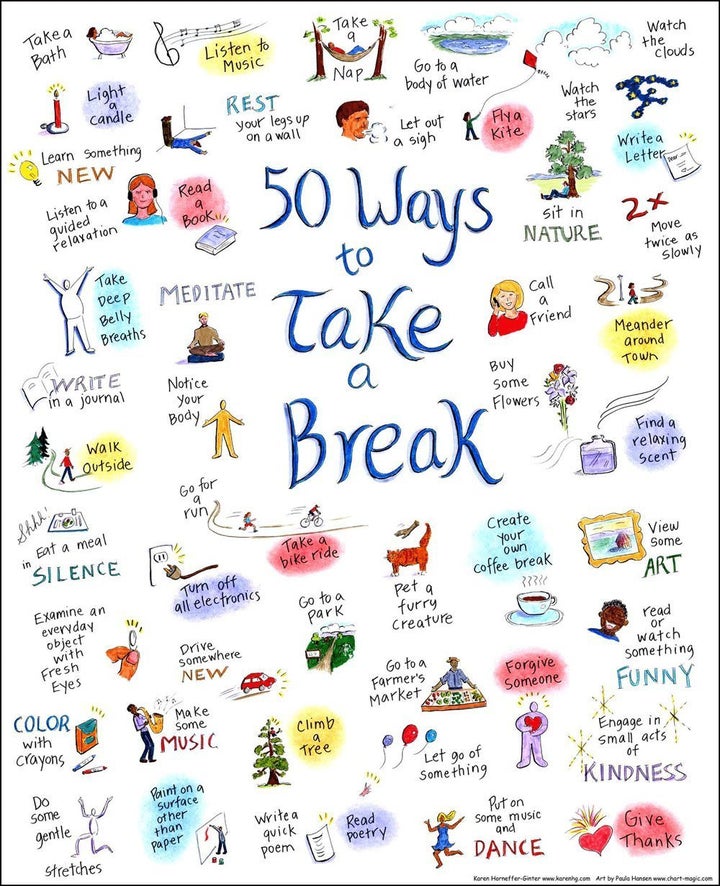 We hope this guide was helpful for all of you. If you have any comments, questions, or any other resources you would like to share, please send them to our email! Thank you for reading!