As this year draws to a close, it's time to look back on the last year and everything we've been up to! We're starting to rev up for next year and our new board will be announced in the next few weeks. It was so great seeing so many new and old faces in our trips and activities around Kumamoto. Thank you to all of the current and past Kumamoto JETs, and our past executive members. This year wouldn't have been possible without you!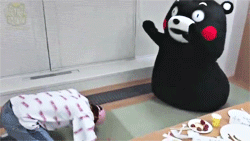 So…what did we get up to this year? I'm so glad you asked!
This year, our first event was a gathering at the Tamana Fireworks Festival! KumAJET's very own executive member, Patrick, a Tamana JET, helped run a yakitori stand.
After that, one crisp August morning brought us to Kikuchi and Aso, where we took a hike through Kikuchi Gorge, a few watering holes, ending at Kikuchi Grand Hotel Onsen. We tried a few different styles of events this year, but one that stayed consistent was our Ashikita Beach Party, one of KumAJET's biggest events, which brought JETs and friends from all over Kyushu. Day turned to night as we swam, barbecued, and talked the night away!
Exec at Ashikita Beach Party!
In October, we had our camping and farming extravaganza at Okuyatani, a valley in Yamaga. Though the water slides that Okuyatani was known for were closed, we were able to have delicious chicken yakitori bentos, barbecue, and smores by the campfire!
After a hard day of chestnut farming~
At the end of October we had our ~Oogie Boogie~ Halloween Party, a party filled with spooky vibes, Sailor Moon characters, Ghibli characters, Pokemon, and the Joker herself. In late November we went on a stargazing night hike in Minami Aso.
Hiking! At night!
During this year, we strove to build our relationship with Jiaien Orphanage, KumAJET's partner non-profit. Our last official event of the year, in December, was our Christmas Party at Jiaien. At this event, profits from our book/bake sale at SDC and at Kumamoto's English Market went to the orphanage. We donated 55,000yen, which are currently being used for enrichment and support for club activities for the children.
Though with the new year came challenges and cancellations (tysm corona), we have used it as a time to build and rebuild, making our programs even stronger. For next year, we have a bunch of projects in the works, including sports teams, online communities, more volunteering and fundraising activities, and much more. Stay posted for the introductions of our new team for the 2020-2021 year – we're so excited for everything to come!